---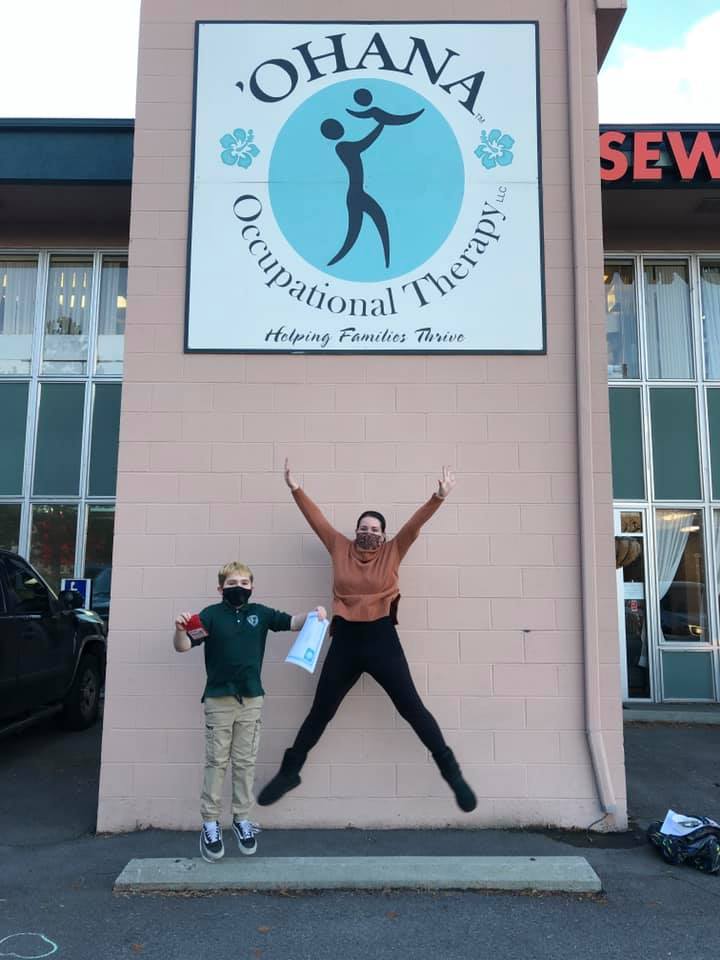 ---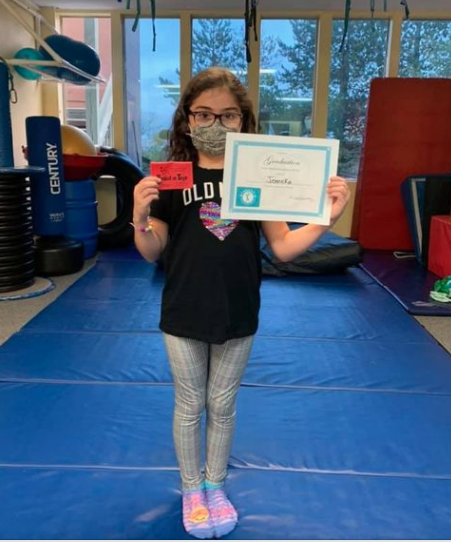 Jenneka's Success Story:
"When Jenneka started at 'Ohana she had emotional issues, some anger and anxiety issues as well. Now her emotions, anxiety, and anger issues have gone away or improved so much. 'Ohana has improved our family as a whole to help Jenneka overcome her issues/concerns. 'Ohana OT is compassionate about what you're doing. Jen has been phenomenal with Jenneka this whole time. It has helped all the way around. Jenneka is a lot different emotionally, physically etc. I cannot say enough , glad we found you. 'Ohana has been great."
---
Finnigan's Success Story:
"Finnegan had problems with physical coordination and unwillingness to take risks. Now he has become much more willing to take risks physically and to work hard to achieve difficult tasks. He has increased confidence which makes it easier to challenge him. Ohana Staff is dedicated and caring."
– Rebecca
---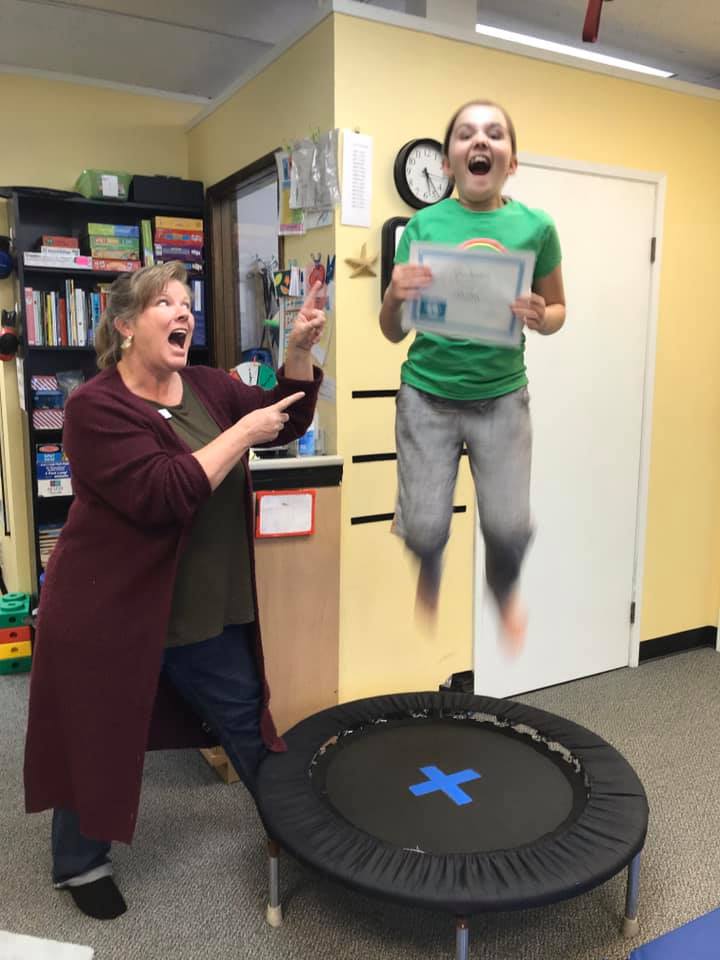 Quinn's Success Story:
"When Quinn started at 'Ohana OT, she had a lack of core strength, very little endurance, reluctance to eat fruits, raw veggies and nuts. Now she is more confident physically! Also, she has more grit and keeps trying something. She also has more endurance hiking. It makes my heart happy to see my kiddo want and choose to do activities she would not have chosen before (monkey bars, making own obstacle course, etc). I liked the baby steps for my daughter to progress through allowed her to trust her body and keep trying. "- Brooke
---
Elliott's Success Story:
"When Elliott started at 'Ohana, she avoided playgroups, ran on her tip toes, only ate "beige foods" and constantly sought rough play. Now she is braver when out playing and more willing to explore on her own. She is also eating an array of fruits and veggies. We are better able to understand each other and communicate what we are needing – rather than exploding or melting down. Ohana understands children and behavior. Hands down, the best OT provider for children in the valley." – Emily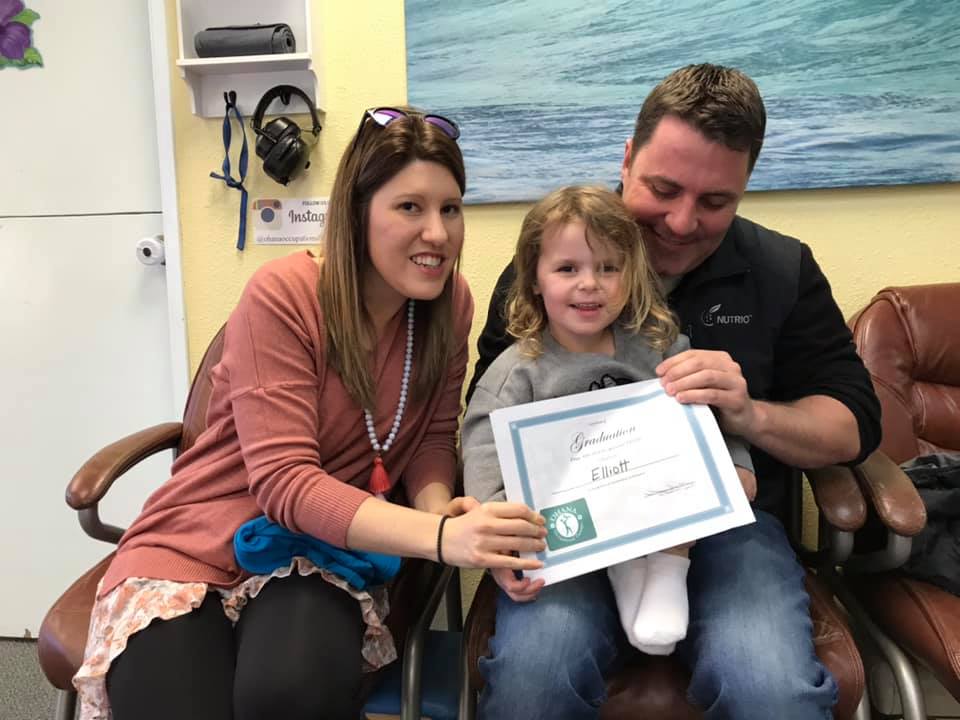 ---
---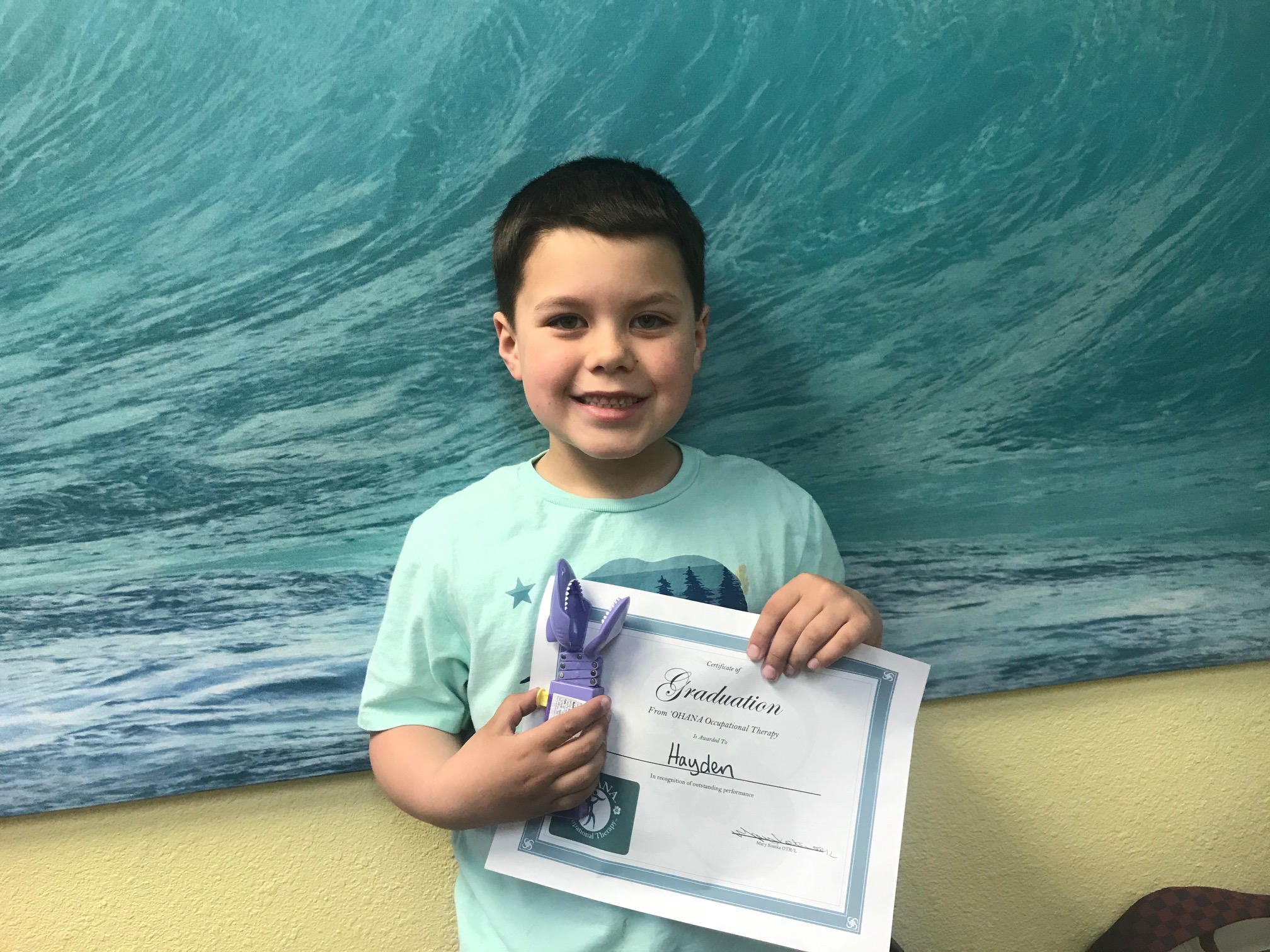 Hayden's Success Story:
"When Hayden started at 'Ohana, he had problems with waiting safely, balance, ability to pay attention, safety in public areas and not being able to tie his shoes. Now he can ride a bike, has longer attention span, tie his shoes, wait safely and is aware of "stranger danger". 'Ohana OT has greatly improved our son's ability to be in public safely and ride a bike, helping him socialize better with kids in the neighborhood and at school. He is happier to be in public places and makes safer choices. At Ohana there is a lot of patience interacting with our son. 'Ohana OT feels comfortable when walking into the building. My son has made great strides since starting here and it is very noticeable! Thank you!"- Michelle
---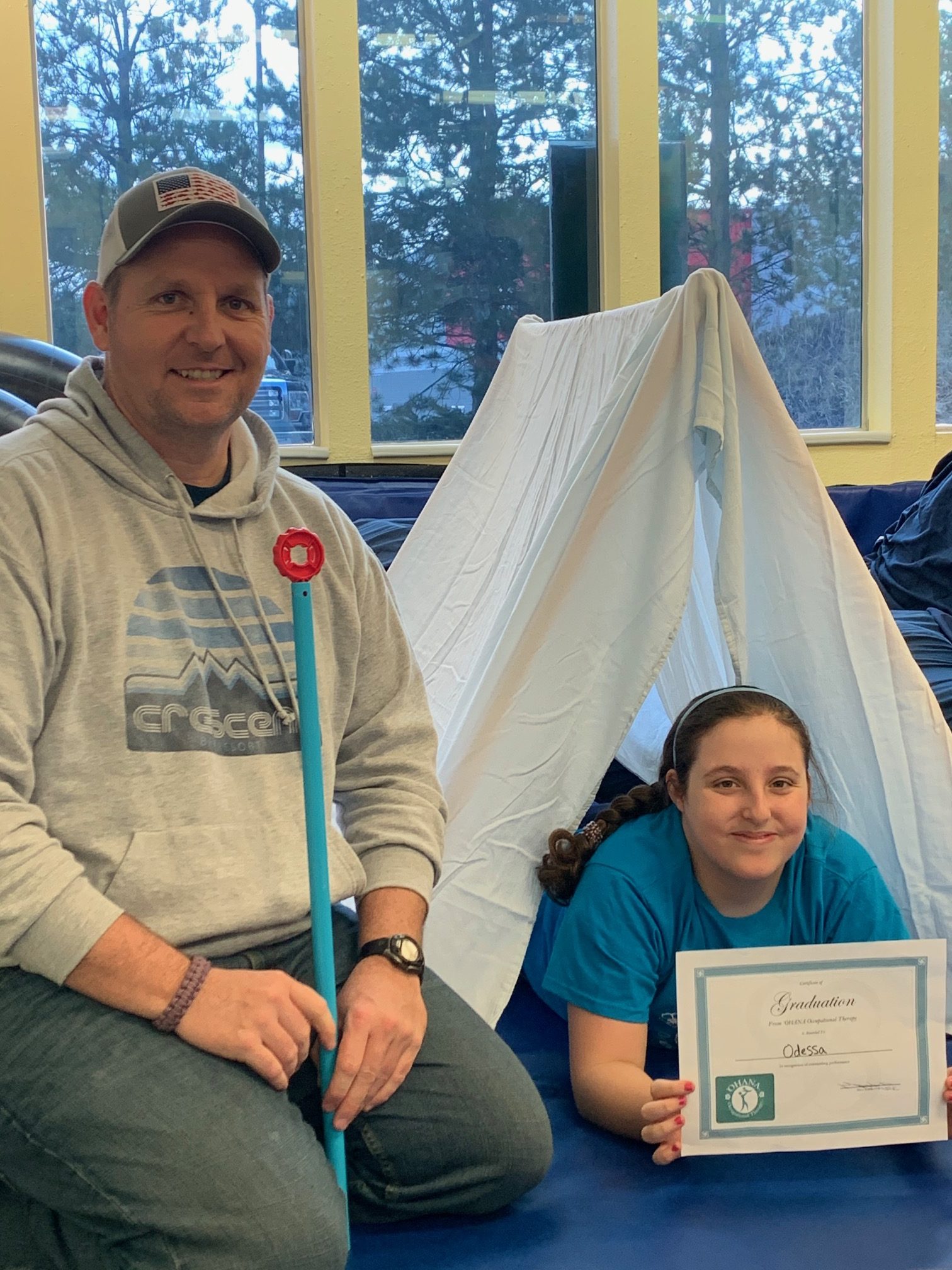 Odessa's Success Story:
"Odessa was struggling with writing, fine motor skills, eye focusing and eyes getting tired. She has had much improvement in eye coordination, motor skills and handwriting is clearer and more accurate. 'Ohana has been a great asset to our family. 'Ohana feels like a part of our family Our kids love to talk about their time at 'Ohana. It has been a positive influence on our children and family. The staff are friendly. The staff are educated and willing to think of fun and creative ways to keep the kids engaged and learning. The 'Ohana staff makes the environment feel fun, safe, and positive Thank You!" – Warren
---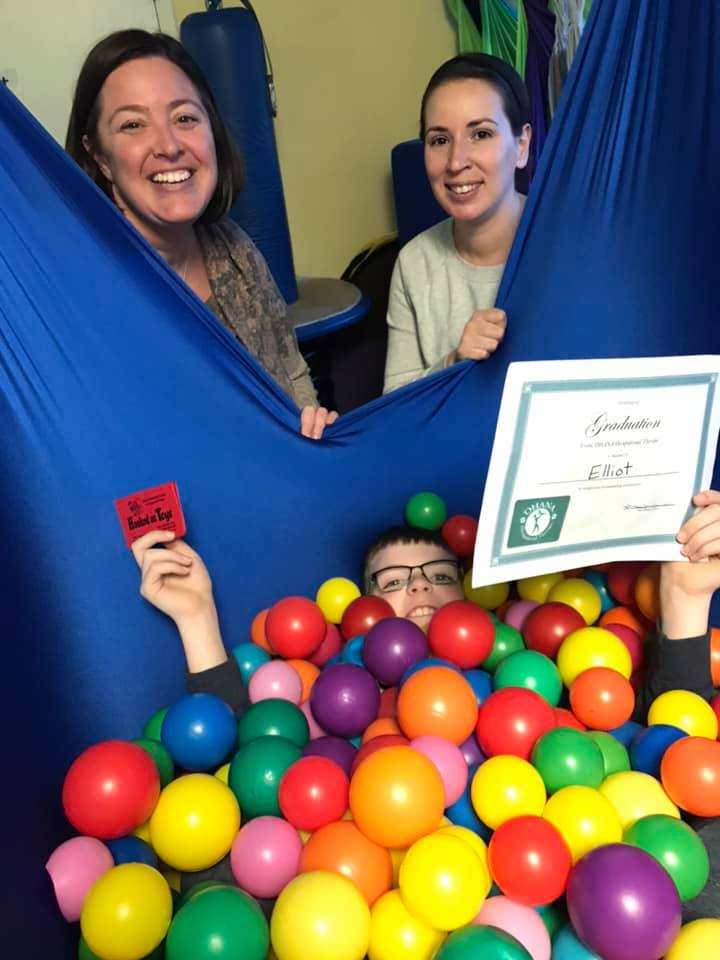 Eliot's Success Story:
"When Elliot started at 'Ohana OT he struggled with attention span, coordination, social skills, distractibility, and was overwhelmed in new/loud/bright situations. Now he is calmer in new situations – doesn't seem to get as overwhelmed, Calmer in general. Able to focus more/less distractible. Interacts more positively with peers. Elliot is calmer and more able to verbally express his struggles/frustrations. Stress due to Elliot being overwhelmed or upset has significantly decreased. His interactions here have increased Elliot's confidence in himself and his interactions with others. "- Summer
---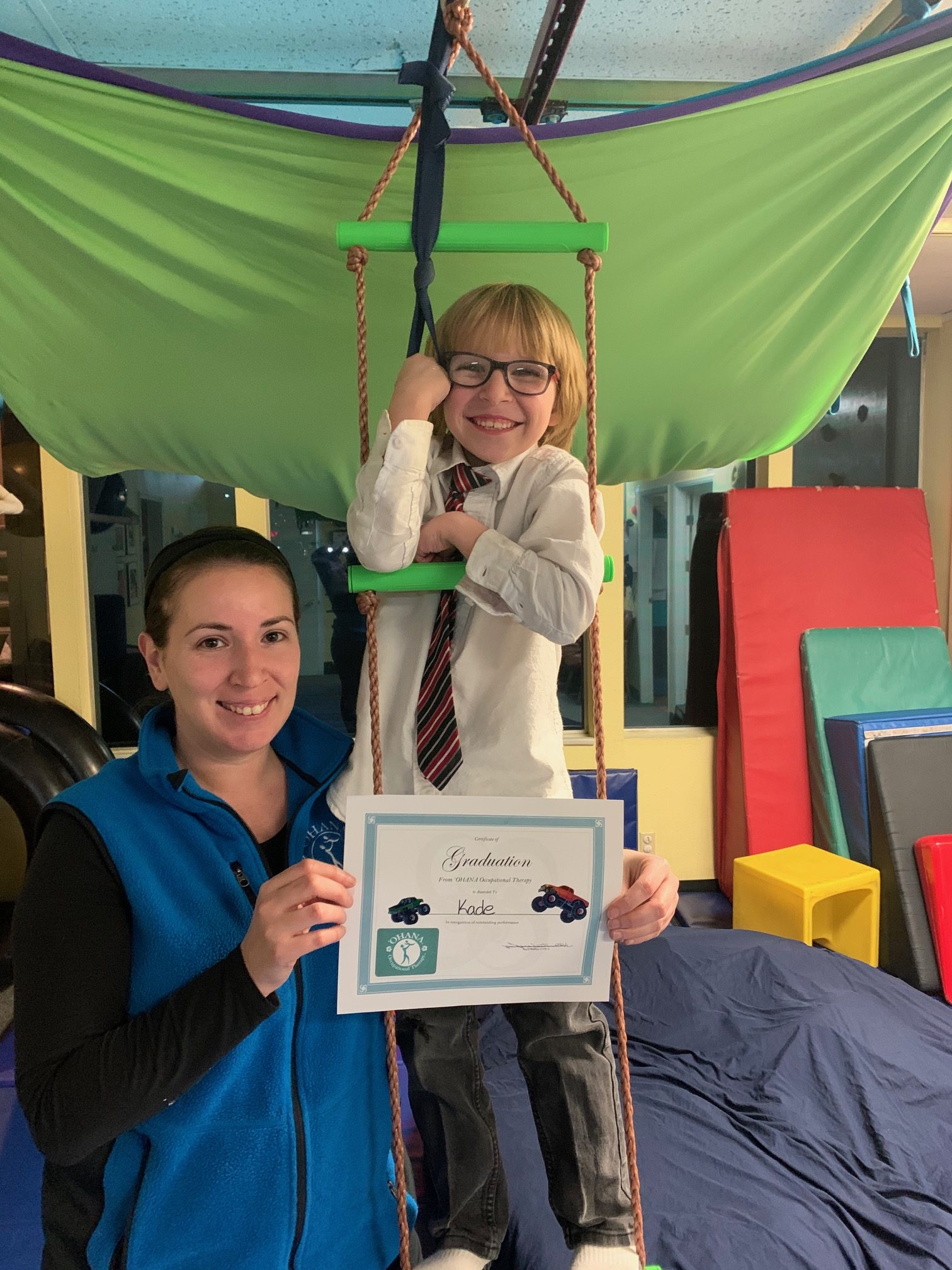 Kade's Success Story:
"When Kade started at 'Ohana OT he was acting out, throwing fits including destroying classrooms and property, getting into things , not listening and did not like change. Kade can now control his emotions better, actively listens and is thriving in school. He is doing better about staying out of things. Kade embraces change. We now feel comfortable about going out to dinners. We have more fun time at home because Kade isn't always sin time out. 'Ohana not only gives the children tools to be better but they give the parent the knowledge and tools to help their child"- Sharon
---
"When starting at 'Ohana OT I had a lot of concerns. I had no idea what was going on with my daughter and her sudden behavior changes. Since coming to 'Ohana she has better control of her anger or when something bothers her. When having panic attack she gets relaxed, calms down and is able to breathe. She learned emotional zone / zones of regulation. Honestly, you guys have been a blessing. We (my daughter and I ) definitely learned so much from your center. I've see my daughter very happy going to her OT sessions and we've seen a big improvement. It was a fun place with awesome staff. All the staff are amazing and friendly. Always welcoming us with a nice smile. 'Ohana offers different sessions/programs for each patient's needs. Thank you so much for everything you did the past six months. We're happy."- Kathy
---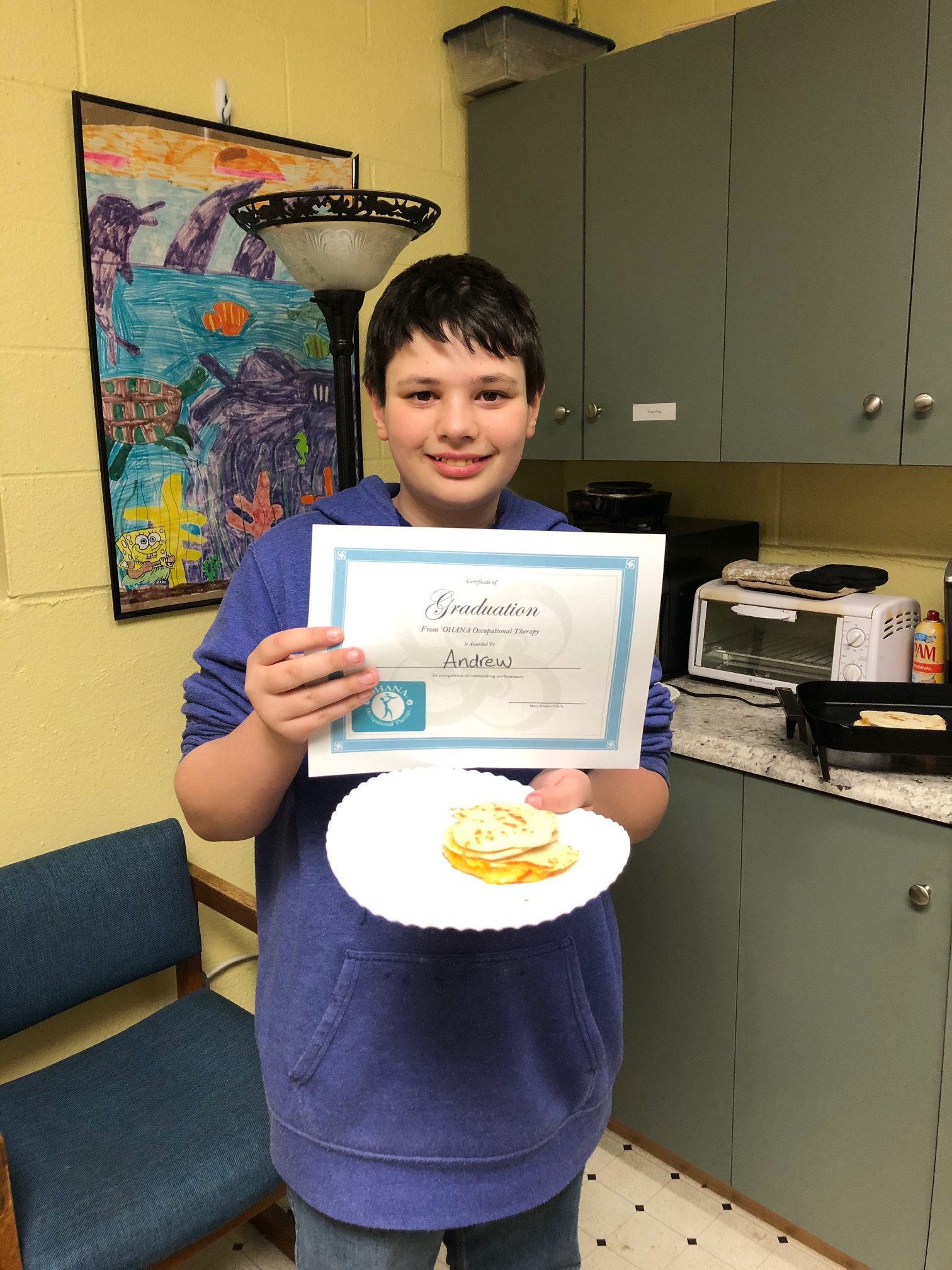 Andrew's Success Story:
"Initially concerns were with handwriting, SPD and following multi-step directions. Now sensory has gotten better, handwriting is more legible, and he is more self confident. Andrew has a better understanding of directions, He seems more aware of his surroundings. We like the support we get at Ohana. When Andrew was being bullied we were given a lot of support and tips on self defense out side of his regular OT. " – Michelle
---
Henry's Success Story:
"Initially we were having difficulty taking Henry out into public places due to him shouting, screaming and hitting his head. No 9/10 times he is quieter while in public and no longer hits his head. He is much better at sharing , taking turns, and listening to instructions. Life is easier by allowing us to have more outings as a family, not having to be worried about Henry having a fit. I like that 'Ohana isn't a super formal classroom type experience. I think Henry is receptive to the way "Ohana does their therapy and it has benefited him socially. The staff is amazing and are great a their jobs"- Charles
---
"Life for our family is happy and easier – Ohana has been a huge help. When Erin started she has a difficult time with daily routines, following directions, overly sensitive to touch and sound, she just appeared to be uncomfortable in her skin. Now morning  are so much easier for her and the whole family. She is able to be responsible for routine tasks and takes initiative to be a helpful family member. She is relaxed and happy. She is so happy most of the time instead of distressed and unsure of herself. Has reduced the stress level for everyone in the house and is building her confidence in herself. "- Heather
---
Testimonial for our Fast Track QRI Laser
---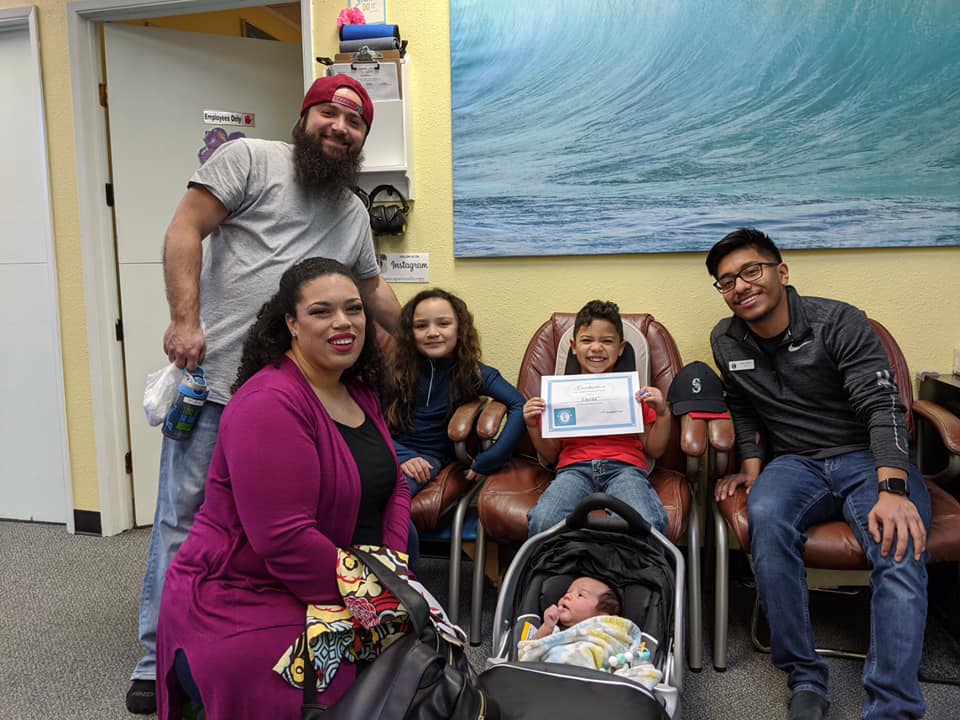 Xavier's Success Story:
"When Xavier started at 'Ohana he had problems with transitioning, some sensory issues and trouble with guided activity. We have been experiencing less meltdowns when it is time to make a transition to a new activity, loud sounds don't seem to have the same effect as they once did. He seems to be much more coordinated after treatment. We have a better understanding of why our son likes certain activities over others. By understanding the reflexes that has not yet integrated we can better plan activities to focus on those areas of need. Ohana is a safe and friendly environment. The staff has been extremely helpful and knowledgeable. This place is great keep up the awesome work."- Terry
---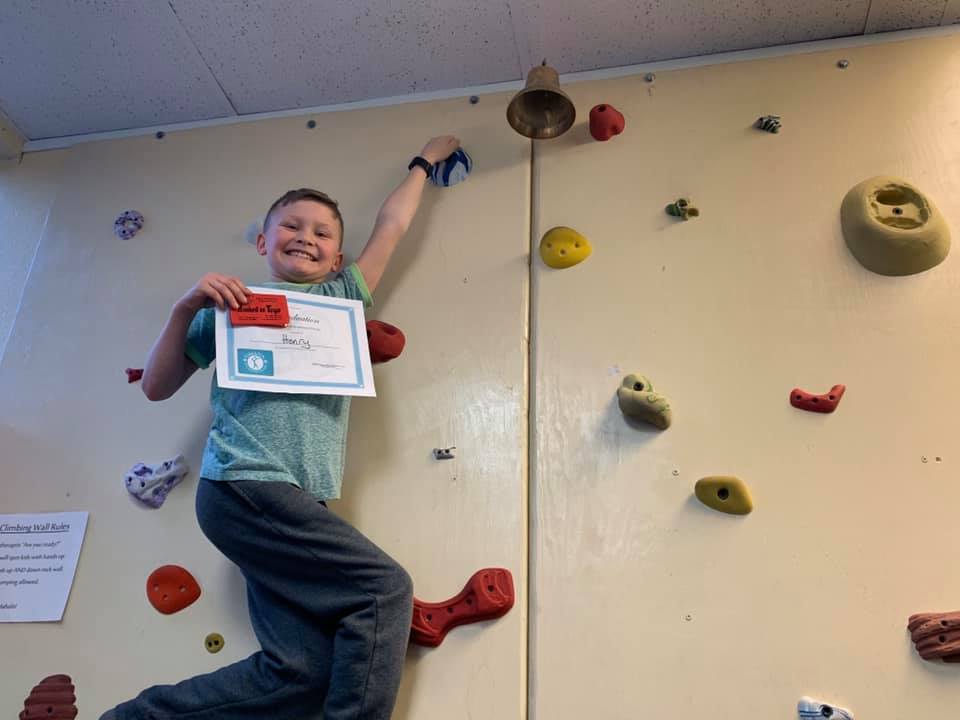 Henry's Success Story:
"Henry has a better ability to cope with sensory stimuli. He has tools that he uses that he didn't have before. His anxiety has reduced and he has become more flexible and reasonable and has significantly fewer meltdowns. When he started at 'Ohana OT his has sensitivity to sounds, smells, textures, clothing and changes in routines. Often experienced meltdowns and rigid behavior along with anxiety. 'Ohana had helped my child develop coping mechanisms and learned new told and behaviors to handle sensory information. He is able to communicate in socially appropriate ways and has fewer meltdowns. I have appreciated the warm and inviting personalities of all of the staff members, the attention to safety and healthy boundaries , and the commitment to my child and family. "- Megan
---
Ethan's Success Story:
"When Ethan started at 'Ohana he had violent outbursts, was running off, throwing things and screaming. Now there is a complete turnaround, almost no outbursts in a month! We started the learning process to help regulate and keep consistent. You helped us consistently work on the Zones – helped us remember. "- David
---
Katie's Success Story:
"When she started at 'Ohana Katie was very emotional, angry and did not know how to handle those feelings/emotions. Now she is HAPPIER! She is more self positive. She is less reactive. We are no longer "living" by Katie's moods/outbursts. The entire family is happier and calmer. The community of parents and staff, meeting, talking and supporting each other….it's priceless." – Jill
---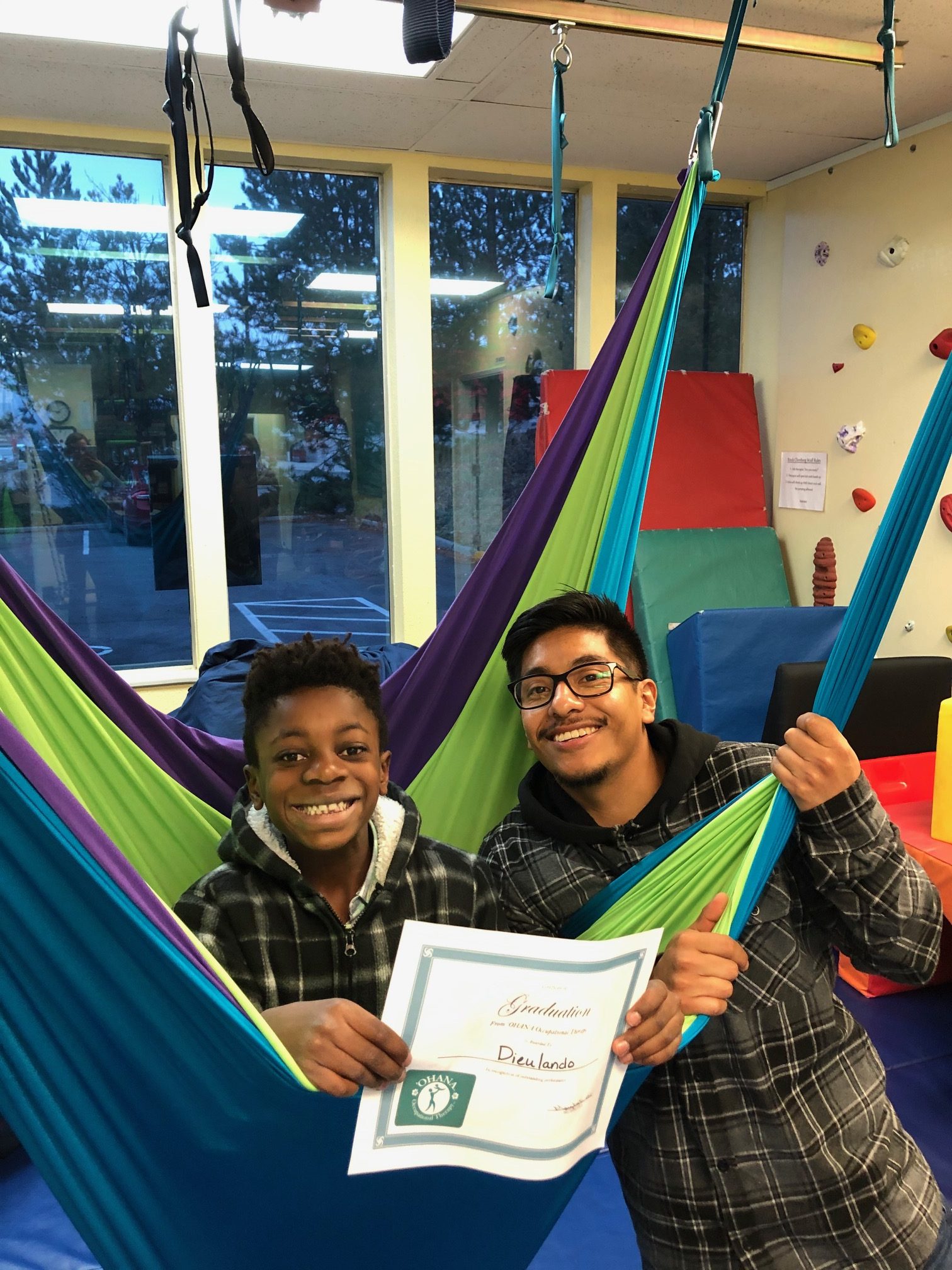 Dieulando's Success Story:
"When Dieulando started at 'Ohana he wasn't able to follow multi-step instructions, had a difficult time with body awareness and needed constant movement. Now he is able  to follow multi-step instructions. We also have the tools we need to understand Dieulando and what his body needs better. With 'Ohana therapy we have found more peace in the home. You are so kind and encouraging." – Laura
---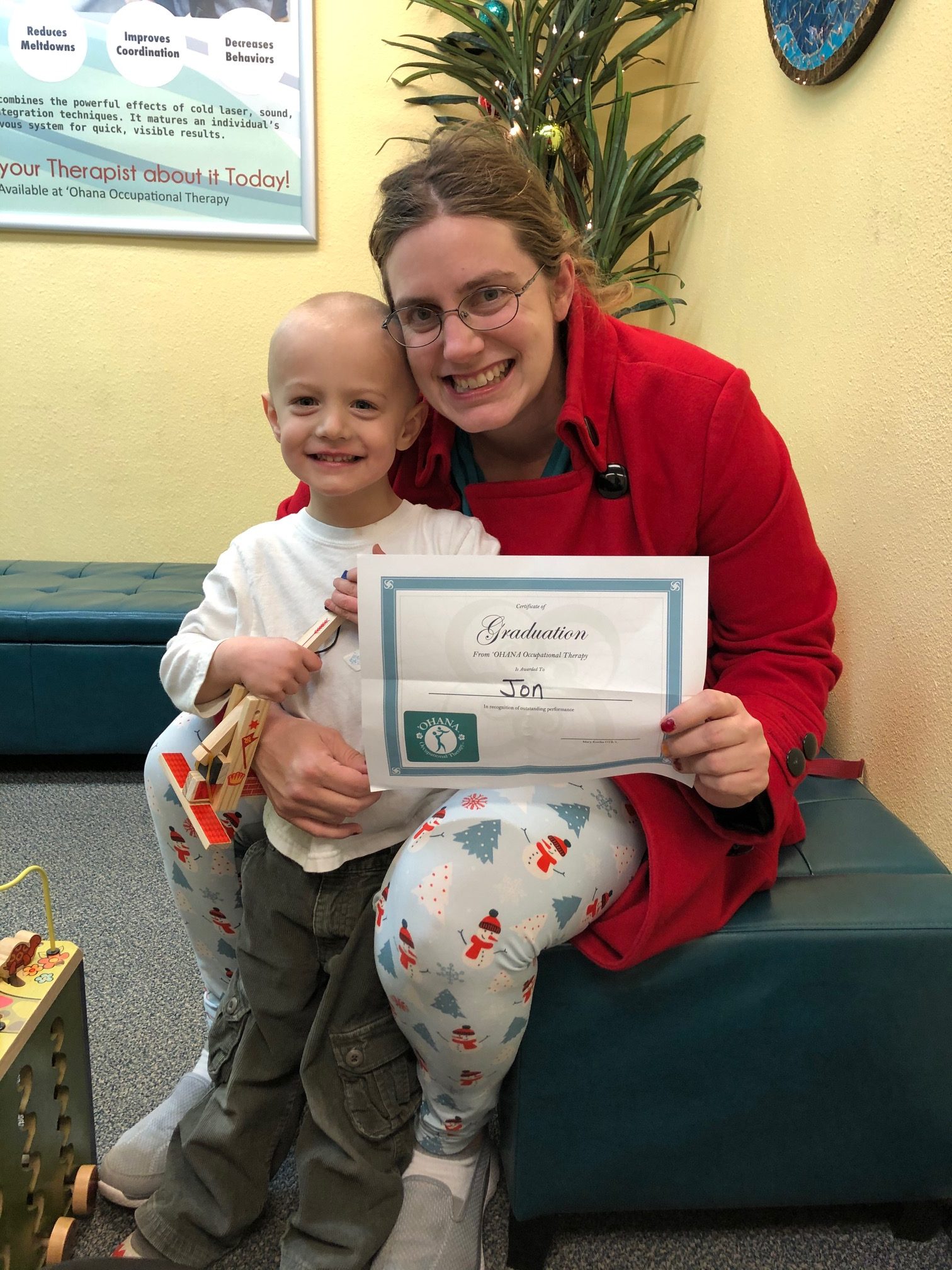 Jon's Success Story: "Jon wasn't eating much food when he started at 'Ohana. His balance was off and he had a weak core. Now he has a stronger core, isn't falling/ tripping anymore and he is eating a lot more food than he was. Now he won't fight us and disrupt us while eating anymore. We also don't have to stop so much to make sure he is ok from falling. We love 'Ohana! I like that I can get ideas to help my kids at home and that the atmosphere feels like family. You have helped Jon be calmer!" – Joseph
---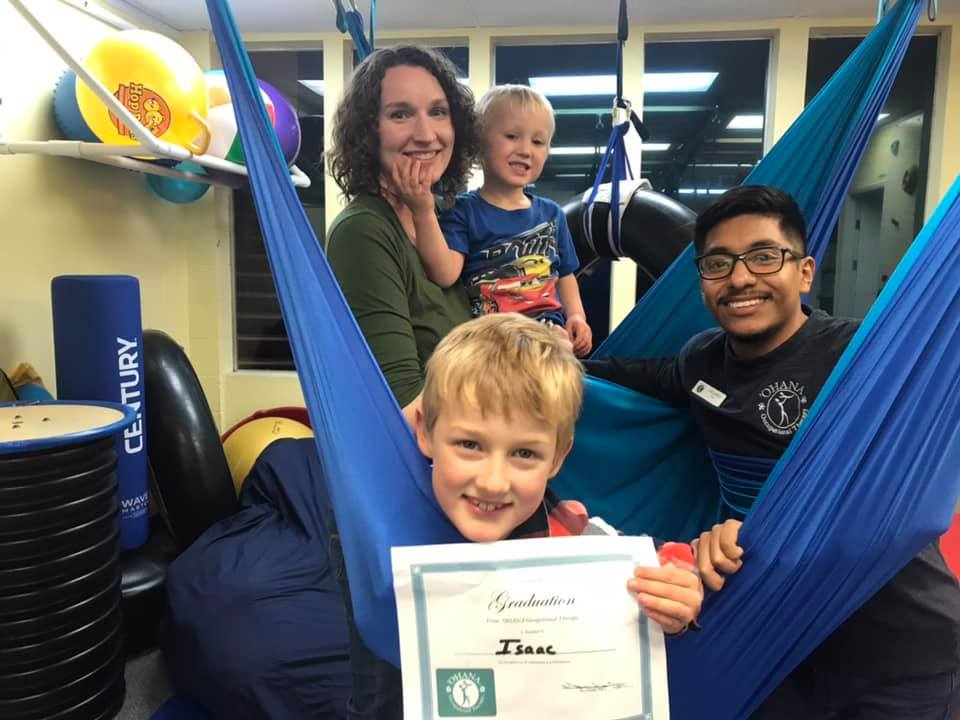 Isaac's Success Story:
"Isaac was having problems with social awareness, mood control, attention and focus with academics, and toileting issues when we started at 'Ohana.  Now he is calmer, although not always. He has language to express feelings and will take a break when becoming overwhelmed. His teacher says he is paying attention in school. He is able to be accident free when at school, but not at home. Isaac's self esteem has improved. The zones have been helpful for the whole family. He seems more cooperative with other adults and has been able to develop friendships at school. QRI therapy has been helpful for the whole family. Everybody enjoys coming here. The staff is very friendly and considerate. We have benefitted from their experience and advice on handling various issues that Isaac has struggled with." – Margaret
---
Tanner's Success Story:
"Tanner was referred to 'Ohana because she struggled with paying attention, large motor skills and writing. Tanner also struggled with behavior she would throw tantrums daily. Now Tanner's balance and coordination have drastically improved. Her body awareness in space has improved and she is more aware of her body in relation to objects and other people. Most of all , she is more confident in herself and outgoing. The biggest impact is that we understand Tanner better. We are aware of why she behaves certain ways and have the tools to help her. Tanner loves coming to 'Ohana , she looks forward to her appointment each week. I think one of the best things about 'Ohana is that you not only treat the child but you educate and provide resources for parents. You provide valuable skills to take with us when we go home. I think you guys are great! Keep up the good work , you are so needed. " Lacey
---
"When Devyn started at Ohana he had problems with following directions, problems in school to focus and poor sportsmanship. I was concerned about his safety outside when riding bikes or playing. Now he does awesome in school, – 7 A's and 1 B+. He can focus better, Safety outside is great. Sportsmanship is getting better too. Ohana has helped so much! What a blessing it has been. Has given me and Devyn tools to use. It has taught us so much about sensory issues, to understand more of what is going on with the body and why. I like that Ohana becomes family and the staff truly care about the family as a whole. Very blessed to have got the opportunity to being Devyn here and to learn so much. Thank you all. "- Karen
---
"When Landon started at Ohana he was impulsive, had focus and attention problems, falling through from beginning to end on tasks, unorganized, busy – always on the move. Now Landon is a lot calmer, he knows when he needs to get out and do something physical mostly so he doesn't go house crazy. He is much better about getting chores done. He still needs to work on being more organized, but hopefully this school year he will improve that.  Our family life has changed with less frustration for everyone Landon included. It's hard to know what is needed when you don't know what is actually needed. Landon always enjoyed his sessions. I never once had to convince him to keep coming back. You all have been great to see on a weekly basis!."- Tina
---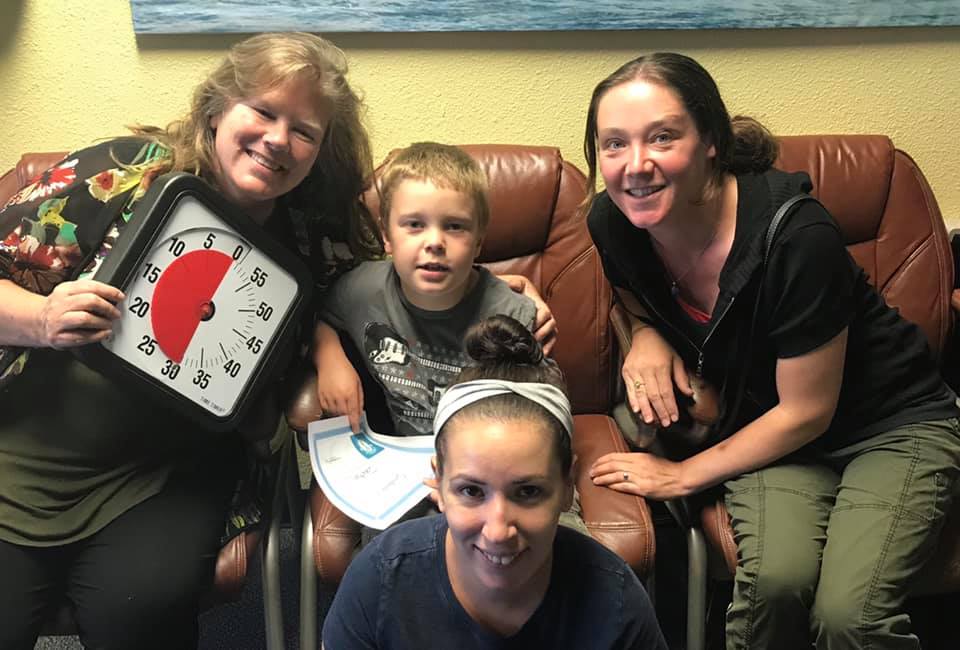 Jonathan's Success Story:
"When he started at Ohana, Jonathan's social interactions were lacking eye contact and response to questions. His attention to stay on a task was a few minutes. We were also concerned regarding his safety while using knives. His personal care using the toilet was also a concern. Now Jonathan's social interactions have improved to a point where he now makes eye contact and responses to  questions are clear and direct. He can stay on a given task without frustrations. His safety awareness regarding knives have improved. Also his personal care while using the toilet is no longer a concern. Jonathan has made so many improvements that the happy nature of his character seems to be all that we are interacting with. Communication without meltdowns have been one of the greatest impacts to our family. I like the go with the flow toward a set task and how you make it fun for him to advance. You're doing great! Keep it up. " Laura (Mom)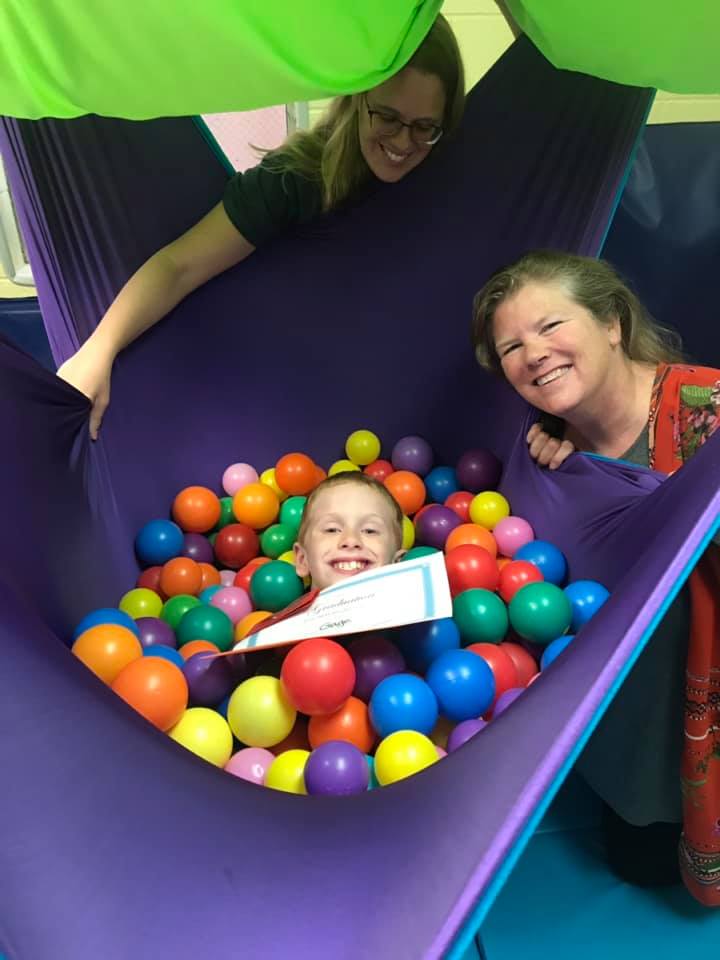 Gage's Success Story:
"When Gage started at 'Ohana he had repetitive movements where he would hurt himself or others. Minimum body movement /control. Now he has started to communicate his needs instead of getting upset and running away. He is learning how to self-regulate. Gage has a better understanding of his needs and is asking for help when he's upset. As a family we are able to go on outings and not only enjoy each other's company but have learned resources for when Gage struggles. I love how I could voice my frustration and I was never put down or judged for it. Mary and staff would help me come up with solutions and things to try"- Stephanie
---
Logan's Success Story:
"Logan was having a very hard time in school. He was repeatedly was in trouble for falling out of his chair and never could stay on task. He had a hard time interacting with the kids and was always behind in class. He would get upset and roll into a ball at home and shutdown. Since coming to 'Ohana OT Logan has grown in his relationships. He has become less of a distraction in his classroom. Staying more on task and not falling out of his chair. Logan has changed and his outbursts at home have almost stopped. He tries to listen and communicate better. It has helped with the tension at home. Logan has learned tools to deal with his problems. 'Ohana was the first place to help. Doctor wanted to drug him. Another therapist did nothing and it would take Logan 3 days to calm down after a visit". – James and Holly
---
Orion's Success Story:
"When Orion started at Ohana he had a lot of trouble with personal space boundaries, climbing everything and everyone. He would throw his body on couches, walls, the floor constantly. Engaging with other people was very difficulty and even being in a room of a few people was way too much. Now Orion is a different kid, he is able to carry a conversation, hear and process what you are saying. He is aware of his surroundings more. He is more flexible and his sensory seeking has lessened dramatically. His meltdowns are less frequent and shorter. Ohana has become a part of our family! Orion started coming when he was 3 years old. They have helped him overcome so many obstacles. They have empowered me as his mom to know what he needs and how to help him. He has struggles sensory-wise day to day. But I am able to understand what is going on with him and why and that is due to Ohana. They are amazing. They changed our lives. I love how you are there for the family as well as the child. You made sure I understood what was happening and how I could help. Orion has been to so many therapies and when we started at Ohana we saw change almost immediately and that was just amazing. I think you guys are doing great. You have always done a great job. Keep up the amazing, life changing work. Thank you so much for everything, you have been a light in our lives for along time. We have learned so much from you!" Molly- (mom)
---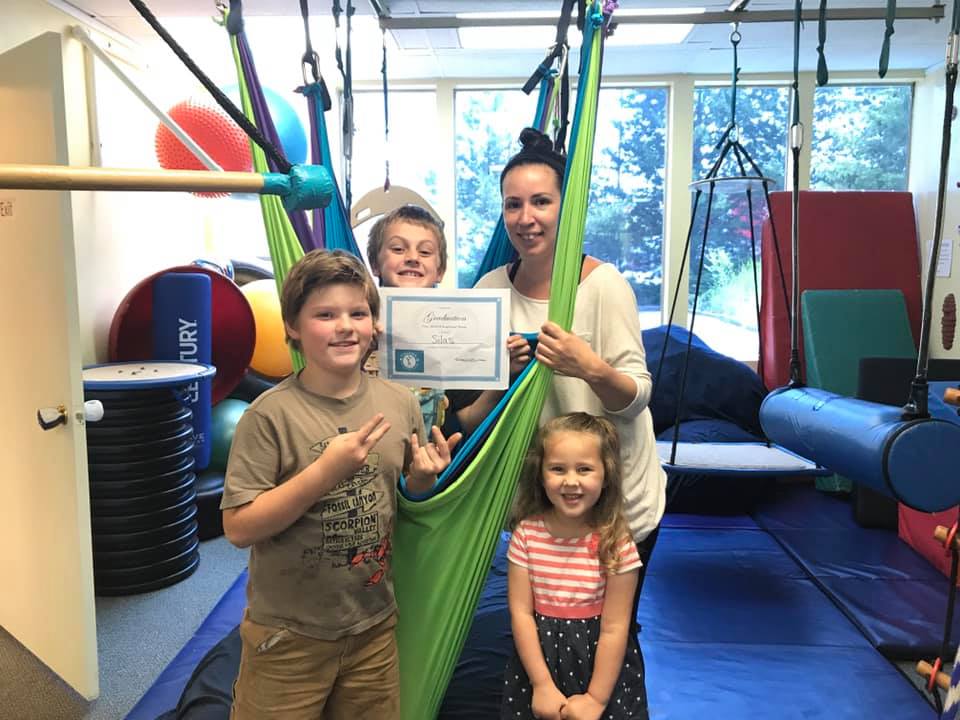 Silas' Success Story:
"When we first came to Ohana Silas threw huge tantrums and had constant need for movement. He was unable to vocalize feelings very well. Now he is calmer, able to vocalize feelings better, let's me know when he needs certain/different calming techniques. Ohana OT has helped us work as a team figuring out what is needed for Silas physically and emotionally. We like the consistency in scheduling and the open communication at Ohana. " Crystal (mom)
---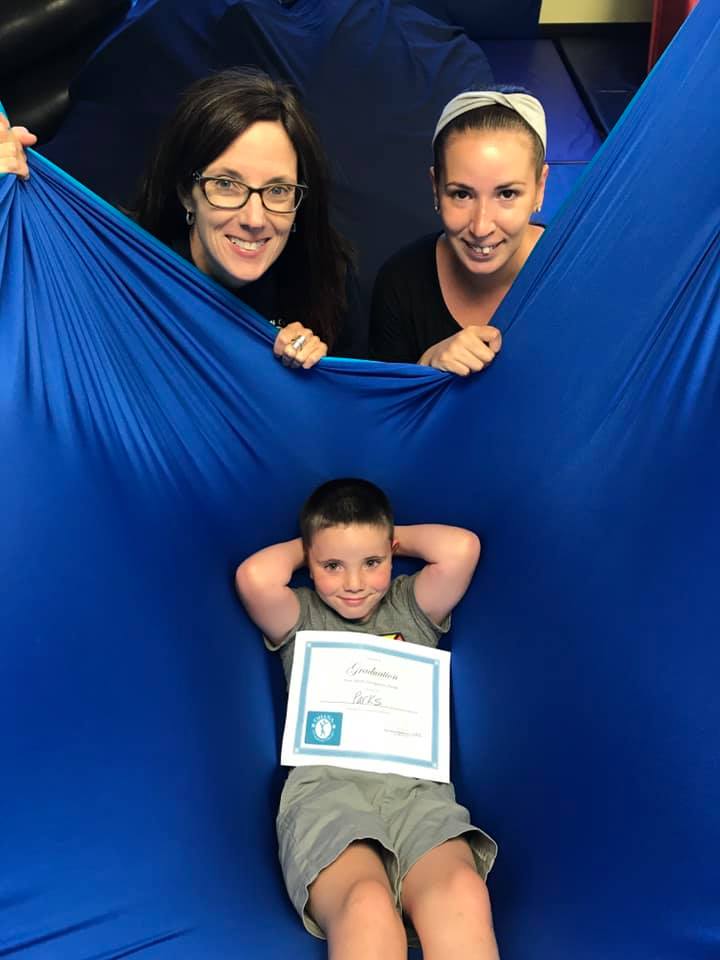 Park's Success Story:
"When Parks started at Ohana he had difficulty sitting still at school and leaning his head on his desk. He had trouble listening in class. Now he has improved ability to listen, sit at desk without putting his head on it. He can now ride a bike independently. We really like our therapist Jen. She always provides unique and helpful insight with challenges that come up."- Hillary
---
Slade's Success Story:
"When Slade started at Ohana OT he was unable to sit in his seat for an extended period of time, could not focus while writing and seemed to be physically tired from typical activities. Now he is sitting still longer in class, handwriting in improving, situational awareness is improving and core strength is getting stronger. Ohana staff has without knowing it , become a huge part of our family life- even outside of the facility. We as a family can use the tools Ohana had given us, and implement them in our day to day routine. The patience and knowledge that we've been given helps our day to day activities without these tools we would be back to where we started." – Ashley
---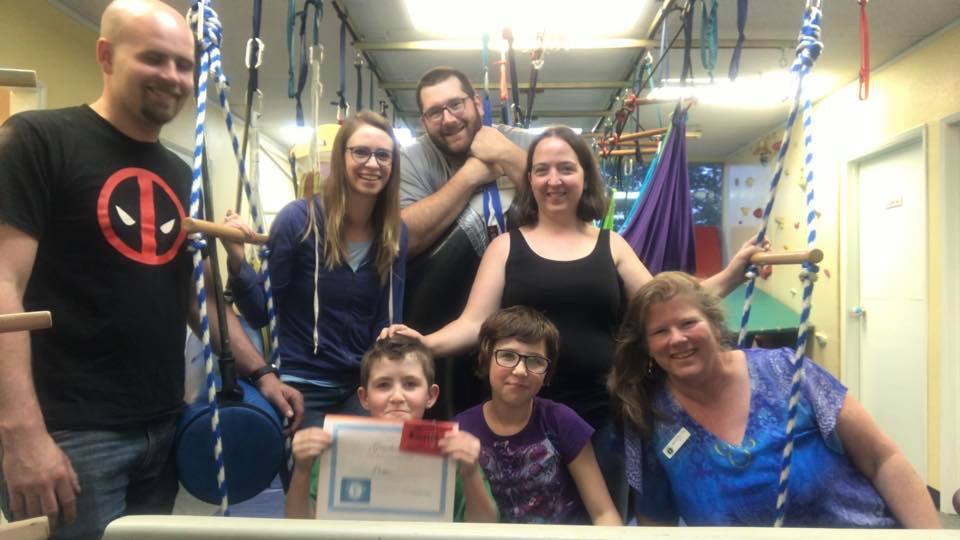 "Before coming to Ohana my son was prone to emotional outbursts and running away. Now he is calmer, easier to talk to when he is upset. He is more willing to talk to people about his needs and wants. My son is more interactive with his family. He used to shut us all out. He is like a completely different kid. I love that Mary is always willing to answer my questions . She is amazing with my son."- Savannah
---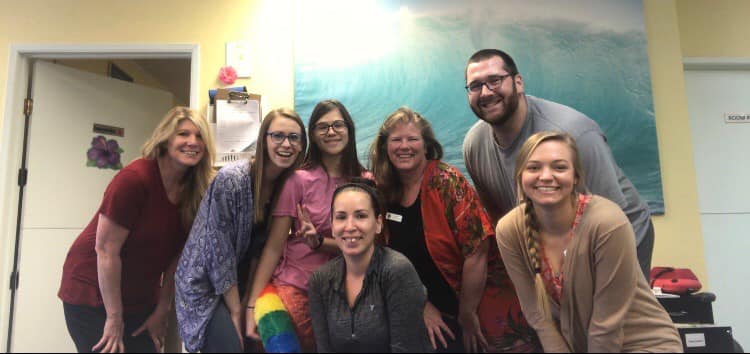 Zoey's Success Story:
"When Zoey started at Ohana OT she had problems communicating her feelings, regulating her emotions and taking care of her personal hygiene. Now she is able to recognize when she is feeling frustrated and using the Zones to get back to the "green zone". Ohana OT has made simple tasks less frustrating. We are not always yelling. We like the relaxed atmosphere where she feels valued and it is fun. "- Kim
---
"When Ella started at "Ohana she had pain in her throat, over reactions to stimulus and anxiety. She is now more calm and has no more pain in her throat. Jen has shared her concern, love, care for Ella. She has created trust, gaining Ella's trust and comfort. Jen has helped us understand Ella's needs. Thank you for helping us see new perspectives, tools and abilities. 'Ohana has give us a centered safe place to grow and understand Ella better" – Lara (Mom)
---
---
Daniel's Success Story:
"We had many concerns when Daniel started at Ohana, especially his balance and the way of taking care of himself. I have seen so many changes in Daniel. Now he puts his clothes on and brushes his teeth. Ohana has had an impact on my families life in so many ways. Now we are not worried about him like before. He's more independent doing his things without much help. Ohana has helped my son and I like Ohana because they help families and kids with needs. " Liliana- Mother
---
"When Joey first started coming to 'Ohana she was having social problems, and she was very distressed by sounds. We had to always be with her for safety reasons. Now Joey has friends. She can think through most situations (crossing the street etc.) and be safe. We can go out to eat, or over to friends house for dinner. It is just wonderful that the kids think they are just here to play, so they love to come!"
-Sheri
---
When DD started at Ohana he had problems with attention and behavior. He now focuses and listens well. My child will now follow directions, listen and is kind. We like how Ohana teaches parents what to be doing at home.
-Joi
---
"Some of the problems and concerns we had when Nico started at 'Ohana included anxiety- leaving the house and transitions, clothing- would not wear pants, underwear, socks, or shoes, and had meltdowns with out of control emotions. We have seen HUGE changes! Nico now loves school, trying new activities, and making friends. Nico no longer has transition issues, has minimal challenges with clothing, and continues to make process with regulating emotions. 'Ohana has helped educate us as parents to better understand SPD. The changes we have seen in Nico have improved our family dynamic dramatically. 'Ohana OT provides excellent communication, compassion, and is an informative resource for help! Jen has a gift for making OT fun."
-Erika
---
When George and Jessie started at 'Ohana they didn't have any balance, and they didn't know how to ride their bikes. They had trouble making friends and initiating conversations with others. George and Jessie were not able to express their emotions or concerns.
'Ohana has been great because I can tell them the problems my kids are having, and they listen and offer solutions. Now they are able to ride their bikes, and they have started making friends. They are able to tell me about their worries and look for solutions. Their balance has improved on the obstacle courses, and they only need a little help. 'Ohana has helped our family so much. My kids have changed so much; they are achieving their goals and are gaining confidence.
---
"Before coming to 'Ohana Gus was very physical with myself and other children. He didn't listen to our instructions which caused us to worry about his safety. He also had trouble with transitions at preschool. Now Gus is much better at listening ans following directions. His teachers say he has improved immensely at school and he is on par with his peers in regard to gross and fine motor skills and behavior. We can channel his physicality into appropriate activities. Our family has many more tools to help Gus function in a normal preschool setting and interact with family and friends. He is able to listen and follow instructions most of the time. Every appointment I can bring in my concerns and the staff gives me reasonable instructions and tools to help. I have books, advice and tools to help Gus for the rest of his life. "- Guenna Curtis
---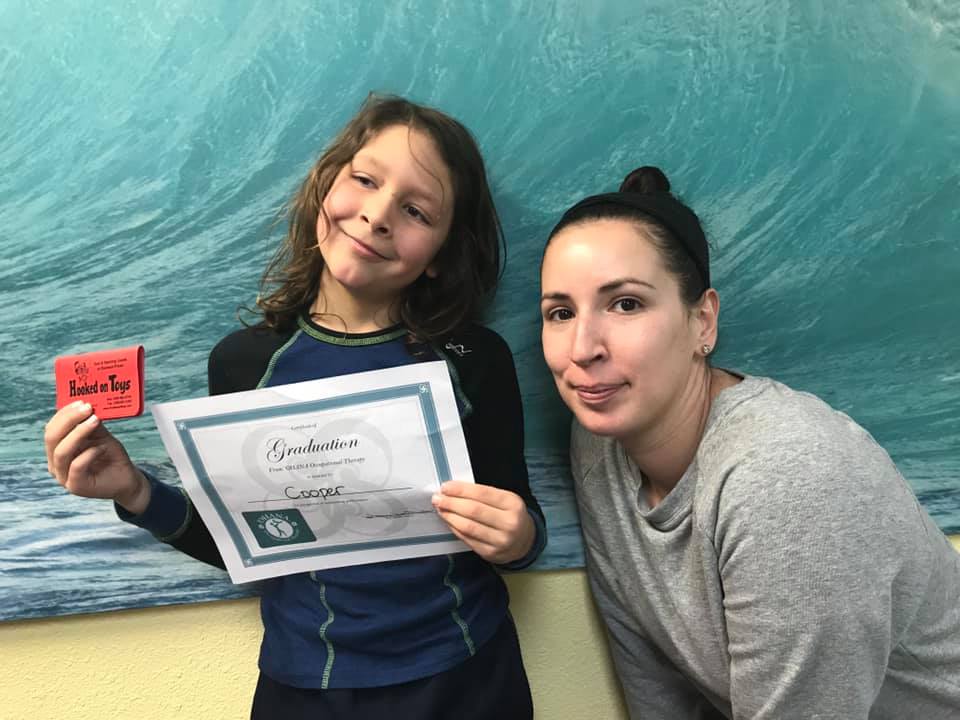 Cooper's Success Story:
"When Cooper started at 'Ohana we were concerned about him following directions, paying attention, respecting personal space with peers, fighting at school and he was reactive to problem social situations. He also had negative self talk. He is now able to use problem solving strategies, negative self talk is a rarity, he is less reactive and has a more regulated response system. He is able to follow directions now. This has impacted our family with less arguing, a calmer environment and he is happier. Thank you for  making it super fun so he always wants go to!"
– Jamie, mother
---
Aggression, angry outbursts toward everyone and everything, and inability to control emotions were some of the problems and concerns Ethan started at 'Ohana with. He no longer has daily outburst, and can de-escalate situations before losing control 90% of the time. Ethan has been able to verbalize his emotions and feelings more than he ever has before. 'Ohana's impact on Ethan has made our home life much calmer. We do not feel like we are walking around on eggshells wondering when the next "blow-up" will come. We no longer have to worry about saying the wrong thing, or looking at him the wrong way, which used to set him off. We really like the "family" style here, and really enjoyed our buddy sessions (learning to work with our new friend). -Sara
---
Before Luis started at 'Ohana he had a lot of problems taking care of himself. I have seen many changes in his behavior. He has grown up in many areas, especially his thinking before speaking or acting.He has also learned how to deal with his emotions, and if he is feeling bad or angry, he can work alone to feel better and change his attitude. Ohana OT has impacted our family in many good ways. Luis plays with his brothers, shares with others, and talks more at dinner time. I love everything about 'Ohana, and they treat everyone very well!
            -Liliana
---
When we first started at 'Ohana I was worried about Rylee not doing well in school. I was also worried about her fear of normal sounds and activities. Rylee now can enjoy normal activities such as brushing her teeth and playing at the playground without fear.
'Ohana has definitely helped our family routine run smoothly and helped Rylee better navigate social situations. I like that 'Ohana has friendly staff and is helpful with coming up with ideas that work with our family at home.
-Kasey
---
Some of our problems and concerns with Ben were aggression, anxiety, emotional detachment, and self-stimulation. 'Ohana OT has helped Ben become more emotionally aware of self, and he has learned coping skills for anxiety and aggression.
Ohana has given our family a chance at bonding with Ben. We have all learned to be aware of triggers and how to help Ben cope. Something I really like about 'Ohana is how Mary listens to my concerns and helps Ben understand his own needs. They cared!
-Heather
---
---
---
---
Tippy toe walking, eating, spinning, touching strangers, standing too close to others, running off, touching/hugging brothers too much, not listening… these were some of the problems and concerns we had with Connor when we started at 'Ohana.  Now Connor is eating a little better, and doesn't eat dinner under the table. I really like that the kids learn "hands on" at 'Ohana.
-Melanie
---
---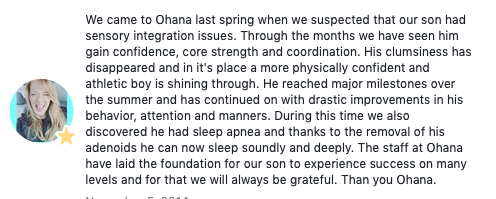 "We LOVE the obstacle courses, amazing staff, and the Zones were fantastic!  Gianna is now able to self-regulate and can de-escalate much sooner."
---
When we started at Ohana we were concerned with socially inappropriate behaviors related to his sensory needs, emotional outbursts at home, worried about his ability to stay engaged at school. He has has huge changes! He knows his sensory needs and can self regulate based on the tools he's learned and practiced at 'Ohana.  He is doing great at school and his ability to participate in adaptive skills at home have improved tremendously.   Ohana has helped us understand our kiddo's needs much better and given us all the tools we need to help our home be more peaceful. Ohana is a safe , welcoming environment, staff and therapists who care deeply about our kids and family and want to help us in any way they can! – Natalie an Kaala Knell
"When we started therapy at Ohana, I had concerns about my son's safety, impulsivity, constant meldowns, and his inability to sit still for meals and activities. Occupational therapy has since increased his ability to sit still and find success at kindergarten.  He also has a better ability to listen and follow directions.
---
"When Payton started at 'Ohana OT she had problems with behavior, balance, not feeling pain, self-harm, multiple melt-downs daily and she would run away. Since coming to 'Ohana OT behavior has improved, balance is amazing, feels pain more often, does not self harm as often, meltdowns are down to 1-2x per week or less. She no longer has to be in a shopping cart and walks beside me. She does not run away in parks. She is more balanced and focused. We see "real Payton" more often – most of the time now. You need to clone yourselves – need more of you ." – Ana Marie