What is "occupational therapy" exactly?
Occupational Therapy for children is FUN!
If your child is not appropriately walking, playing, learning, eating, sleeping, etcetera for their age, you should see an occupational therapist. Our treatment is often the MOST successful for children with:
Autism, ADD/ADHD

Developmental Delays

Cerebral Palsy

Learning Challenges

Behavior Challenges

Brain Injury

Emotional/ Social Disorders
We serve children of all ages in the home, community and clinic settings.
When treatment sessions are structured well, your child learns new skills while it appears they are simply having fun.
During sensory-based Occupational Therapy (OT) sessions, the therapist and your child interact in a sensory-rich environment with lots of swinging, spinning, tactile, visual, auditory, and taste opportunities that seem to a child more like a giant playground than a therapy center. Sessions are structured so your child is challenged but always successful in completing each activity. This is important to enhance their psychology as well.
A healthy child should be able to do the following things:
moving
playing
learning
eating
sleeping
An Occupational Therapist's training is extensive, and entails:
child development
motor learning
anatomy,physiology
kinesiology
behavior
cognition
sensory systems
and the use of specialized equipment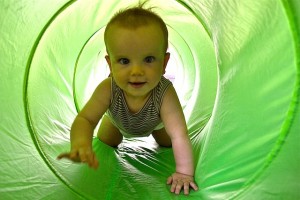 OT's are experts at creating the "just right" challenge so the child is able to feel successful while progressing to new skill levels.
With effective occupational therapy, children improve their ability to accurately detect, regulate, interpret, and execute appropriate motor and behavioral responses to sensations so they are able to perform everyday "occupations" in a functional manner. These occupations include playing with friends, enjoying school or work, completing daily routines such as eating, dressing, sleeping, and enjoying a typical family life.